This November concludes DCW's 10th Harvest at Rancho La Viña and we are releasing a very special Pinot Noir Tasting Pack that has been 10 years in the making!
2007 D'Alfonso-Curran "Cooper Select" Pinot Noir, Rancho La Viña Vineyard, Sta. Rita Hills, Tasting Pack, 5 - 750ml bottles.
$600.00/5-Bottle pack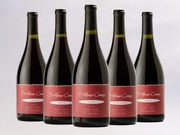 Our "Coopers Select" Pinot Noirs were born out of our desire to share our experience and reasoning of why we choose the barrels (the Cooperages, Forests, Stave Aging, and Toast Levels) that we do. The process of selecting the barrels is a very critical aspect of winemaking, which can greatly impact the flavor, aroma and texture of the finished wine. Bruno and I realize that many wine lovers do not get the opportunity to taste wines out of barrel, let alone to sample that wine after it has been aged in different Cooperages (barrel makers). So here is your opportunity! This 2007 Pinot Noir, made during our First Harvest at RLV, was aged for 7 years in 100% New French Oak; 4 different Coopers were selected for this program. We bottled a portion of the 4 barrels individually and then blended the balance together for the final bottling; hence the 5 bottles in this very special pack.
This assortment includes the following Coopers (1 bottle each): Remond, Radoux, Boutes, Seguin Moreau and a "Blend" of the four Coopers. Also included in the pack will be Spider Graphs showing the chemical differences between the wines and tasting mats so you can hold your own tasting with up to 12 of your best friends! This way you have the opportunity to taste the delicate nuances between these wines and understand why winemakers choose the barrels for their wine programs very carefully.
The Registration for this Drawing starts 11/15/17 and ends on 11/29/17 at Midnight. Winners will be announced on December 1st!
One ticket per Club Member Please!